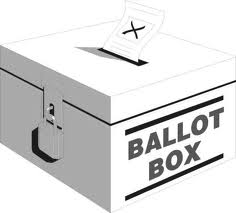 Here are some results from the August 14 Primary election. Voter turnout in Lincoln County was right at the projected statewide turnout estimate at 20 percent.
It Appears that Lincoln County will have a new County Clerk as Merrill native Chris Marlowe defeats Sheila Pudelko.

Lincoln County Clerk, Republican
SHEILA PUDELKO 1,472 46.70%
CHRIS MARLOWE 1,678 53.24%

Foir the district 12 Senate seat, Susan Sommer will move to the General election and face Tom Tiffany
District 12, Democratic
Susan Sommer 3,693, 65%
Lisa Theo 2,019, 35%
It will be Tommy Thompson against Tammy Baldwin for Wisconsin's open U-S Senate seat in November. Thompson, the former governor and Bush health secretary, won a four-way primary in his first appearance on the ballot since 1998. He received 34-percent of the vote yesterday to 31-percent for hedge fund manager Eric Hovde. Mark Neumann, the former congressman who lost a primary to Governor Scott Walker last year, finished third this time with 23-percent. State Assembly Speaker Jeff Fitzgerald, the least-funded of the four G-O-P hopefuls, had 12-percent.
In Marathon County, Mandy Wright won the right to run for Donna Seidel's former 85th assembly seat after she defeated the county's democratic chair Jeff Johnson 61-39 percent. Wright will now challenge Republican Pat Snyder this November. The 86th assembly race this November will be John Spiros vs. Dennis Halkowski after Spiros defeated Wayne Thorson 74-26.