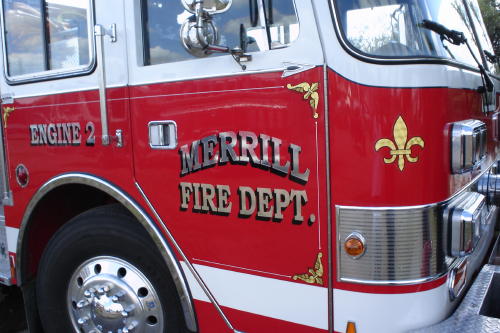 Merrill, WI – August 6, 2012 - Merrill Firefighters were notified by a neighbor that the house next door to him was on fire, just after 1:00 p.m. Monday afternoon. Merrill Fire personnel quickly responded with Ladder 1, Engine 1 and Medic 1, just 2 houses west of fire station #1 at 617 E. 1st St. to find gray smoke coming from the structure.
Firefighters entered the home and located the fire in the basement of the home; they were able to quickly extinguish the fire, in which a clothes dryer may have been the cause.
Nobody was home at the time, however two pets including; a cat and a rabbit were rescued from the smoke filled 1st floor of the structure and were returned to the residents. Firefighters continued to clear smoke from the building and continued overhaul of the structure.
The Merrill Police Department was on scene for traffic control.
Wisconsin Public Service was also on scene to shut down the electrical service to the residence.
The house sustained moderate fire damage in the basement and smoke damage was reported throughout the entire structure.
Merrill fire personnel were on the scene for about an hour.
The owner of the home was notified and the fire is still under investigation, but it is not believed to be suspicious at this time.
No injuries were reported from the incident.