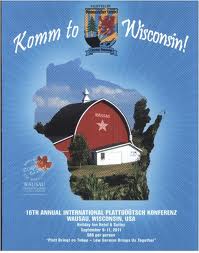 The Pommerscher Verein of Central
Wisconsin will hold their Piknik Im Bush
(Picnic in the Woods) this Sunday,
July 15th.
The Pommerscher Verein of Central Wisconsin (German Club) invites members and friends to its annual picnic on Sunday, July 15. The highlight of this event will be the unveiling of the club's recently completed Immigrant Historical Marker.
The picnic and unveiling ceremony will be held at the Berlin Center which is located at the intersection of Berlin Lane and Naugart Drive in the town of Berlin. An admission bracelet for this event is $5.00 and may be purchased at the gate. (Children 12 and under are free). Questions: Telephone Cindy at 715-842-7320.
The idea for the Immigrant Historical Marker emerged about two years ago when members of the Board of Directors discussed the need to recognize the achievements and legacy of immigrants who settled in the area. The discussion resulted in the development and completion of an Immigrant Historical Marker at the Berlin Center which identifies and ties the names of immigrants directly to the marker in a graphic and personal way.
At the site, in addition to the six foot tall granite marker, there are 149 tiles engraved with the names of immigrants which have been placed at the base of the marker, and 362 commemorative bricks forming two walkways to the marker. On one side of the marker is a narrative about the POMERANIAN SETTLEMENT and the opposite side contains a map of the KINGDOM OF PRUSSIA which identifies the area where a large group of immigrants originated. Also on the same side of the marker, is a map of Wisconsin and parts of Marathon and Lincoln counties where the majority of Pomeranian immigrants settled. (The code of origin on the immigrant tiles is identifiable on the Kingdom of Prussia map.)
In the future, the Pommerscher Verein plans to compile a "contributor list" and a "collection of stories" about the immigrants whose names are found on tiles at the historical marker site.
The schedule for the July 15th event is as follows
:
12:00 – Registration begins
1:00 – Unveiling ceremony
2:00 – Entertainment/Activities: Pommerscher Danz Gruppe, Sänger Chor, Bull Falls
Blasmusikanten, Pommern Library, Displays, Socialization, Bier Garten
4:30 - Piknik Chicken Buffet Dinner