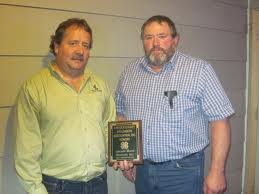 Dale Christiansen (right)
(source: Lincoln County UW-Extension)
Dale Christiansen of the Lincoln County Fair Association reacted to the news that the grandstands at the fair grounds would be demolished by saying he respected the Public Property Committee's decision and that he was sad to "see an old friend having to go."
Christiansen reiterated that all planned entertainment at the fair grounds would go on as scheduled. Temporary bleachers will be set up beginning on Monday of fair week.
Click
HERE
for our afternoon update with comments from Christiansen.