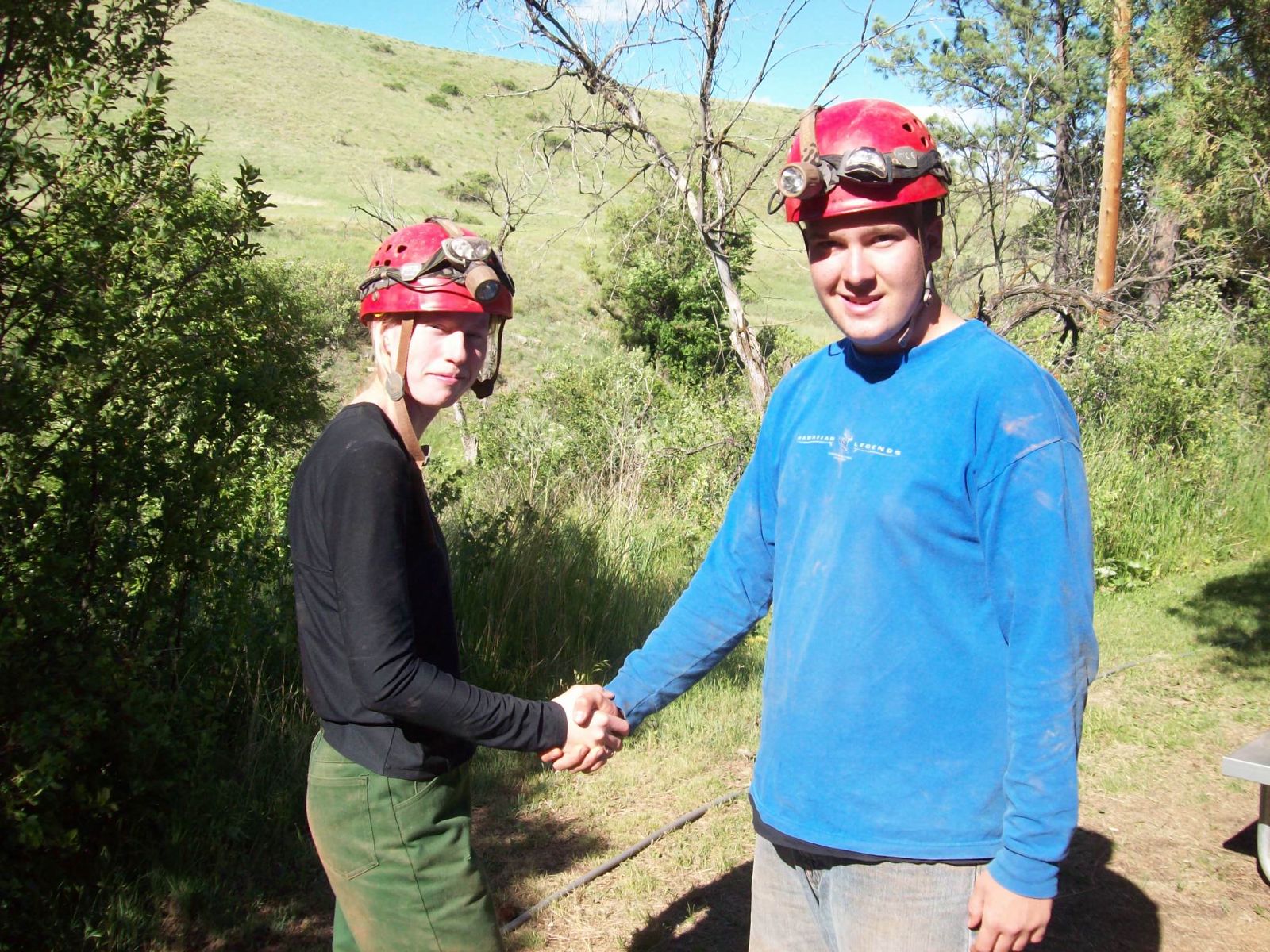 Wind Cave Park Guide Tiffany congratulates
Merrill Boy Scout Caleb Wensel on his historic find

Merrill Boy Scout Troop 503, while on High Adventure in the Black Hills of South Dakota made an historic find during a "Wild Cave Tour" in Wind Cave. Caleb Wensel was part of a 10 person troop that discovered a piece of string inside the cave which was believed to have been used by the original cave owner, Alvin Frank McDonald, for navigation anywhere from 1890 to 1893.
Caleb Wensel and Troop 503 went on the outdoor High Adventure on June 20th and planned the 4-hour "Wild Cave tour" as part of the activities. Troop members followed the National Park Guide, Tiffany, crawling on hand and knees through a very exclusive part of Wind Cave. The discovery was made about 3-hours into the adventure at a rest stop called the "Muddle Room". The Park Guide was answering questions when Wensel asked about some "very old string" near the spot he was resting. Guide Tiffany excitedly proclaimed "DON'T TOUCH IT!" and quickly used marker ribbon to quarantine the area. The professional cave guide Tiffany then explained the importance of this find and went on to give a brief history of Wind Cave's original Owner and first explorer, Alvin Frank McDonald.
Wind Cave was discovered in 1890 by McDonald when he was at the tender young age of 16. McDonald would explore Wind Cave using a candles and a ball of string to trace his path. Park officials will now assemble another cave excursion to the site of the discovery to document and photograph this 120 year old string. Park officials have assured the Merrill Boy Scouts that they would be given full credit by the park historian and be entered into the permanent records when this find is officially verified.