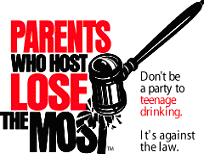 Merrill and Tomahawk Parents DO NOT approve of parents who allow underage drinking...even with supervision.

Purchase, provide or pour alcohol for underage drinkers and the people they injure can sue you. And since your homeowners insurance doesn't cover illegal activity – the risk all falls on you!
Wisconsin law provides adults with civil immunity for guests they provide with alcohol, but there's no immunity when alcohol is served to an underage drinker.
Instead…
If your teen is giving a party:
·Help your child make a guest list – inviting only a specific number of people.
Pass out or send invitations to avoid the "open party" situation. DO NOT send e-mail invitations that can be forwarded to large numbers of kids.
Put your phone number on the invitation and welcome calls from parents.
Set rules ahead of time, i.e. no alcohol, drugs or tobacco. Set a start and end time.
Let attendees know that if they leave, they can't come back.
Have plenty of food and non-alcoholic beverages.
Plan activities such as music, video or board games, movies, etc.
Call parents of any teen who arrives in possession of alcohol or under the influence. If you can't get in touch with the parents, keep the teen there or call the police if necessary. You can be civilly liable if you know they have been drinking and you let them leave.
Secure all forms of alcohol, firearms and other potentially hazardous items in your home.
Make regular and unobtrusive visits to the party area.
Invite some other parents to help chaperone if there will be a large number of teenagers.
If your teen is attending a party
Know where your child will be. Call parent to verify the location and ensure adult supervision.
Offer to help supervise or provide refreshments.
Make certain that the host will not be serving or allowing alcohol.
Let your child know that you expect to know where he/she is if they leave the party.
Set a curfew for your teen to be home and when they arrive home, have them check in.
Know how your child is getting to and from the party. Reinforce the message to your teenager that they should never allow someone who has been drinking or using other drugs to drive them anywhere.
Assure your child that they can telephone you to be picked up whenever needed.
If the activity seems inappropriate, express concern and keep your child home.
If you know of, or would like to report an underage alcohol party or consumption, call Lincoln County Crime Stoppers at 715-536-3726.
Parents Who Host, Lose the Most: Don't be a party to teenage drinking was developed by and is a project of Drug-Free Action Alliance. If you would like to be part of this campaign or would just like more information, please contact Tammi Boers at the Lincoln County Health Department at 715-539-1373, or Sue Hawkins at Tomahawk Together, or Bonnie Rudie, Lincoln County UW Extension, 715-539-1072.