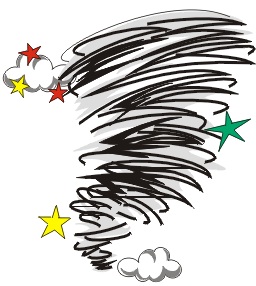 A tornado in Marathon County capped off a day of rough weather in Wisconsin. Most parts of the state had strong winds yesterday afternoon and evening – and a number of places had heavy rains and thunderstorms.
National Weather Service meteorologist Jeff Last said the tornado touched down south of Marathon City around seven last night. It was on the ground intermittently for five minutes and several miles as it moved northeast. There were no immediate reports of injuries or major damage from that twister, but authorities were still surveying the area late last night. All they found were downed trees.
Winds gusted to 60-miles-an-hour in Waupaca and Taylor counties. Fallen trees were common in most regions of the state. A recreational vehicle flipped over near Eau Claire, and trees fell on homes in nearby Lake Hallie.
Heavy rains were the problem in the far northwest. Grantsburg had the most rain with three-point-six inches. And a road washed out near South Range in Douglas County.
The severe weather provided quite a scare in the Merrill area last night as the emergency sirens sounded for a tornado warning. The tornado was sighted by law enforcement first about 5 miles west of Rib Mountain and then about 8 miles northeast of Wausau. These storm cell and tornado were moving at about 60 miles an hour to the northeast and quickly jumped into Langlade County. The warning for Lincoln County was canceled moments later.
There were reports of wind damage throughout Lincoln County and the Merrill area as the strong winds had been buffeting the area all day. The Merrill airport reported a maximum wind gust of 36 miles an hour at 3:55pm on Thursday. Quieter weather is expected for today.
Dozens of Merrill and Wausau residents remain without power this morning. Wisconsin Public Service's Outage website shows 63 Merrill homes without power and just over 100 in the Wausau area.