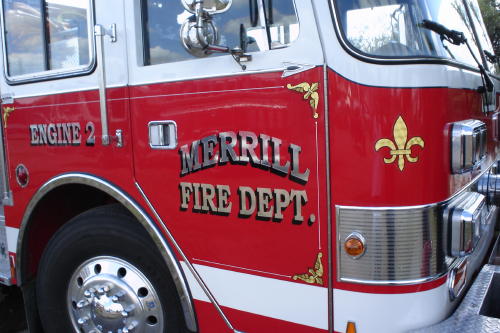 The Merrill Fire Department responded to a structure fire, in the Town of Rock Falls, at W5213 Winkleman Ave., just before 10:30 Wednesday morning. Lincoln 911 dispatch reported that a neighbor called to report smoke coming out of the rafters of the neighbor's house.

Engine 1, Tanker 5, Rescue 1 and Medic 1 all responded from Merrill and Mutual Aid was requested from Tomahawk Fire and Russell Fire for tanker support and an engine. Merrill DNR was put on alert standby due to the high winds at the time of the fire, in case a wild land fire resulted from the structure fire. The Lincoln County Sheriff's department was also on scene.

After arriving on scene Merrill personnel found heavy smoke and flame showing, they quickly entered the structure and knocked the fire down, as well as doing a quick interior search of the building. Fire personnel later found out that no individuals were present at the residence shortly after the search. Crews continued their efforts as the fire was controlled, yet many hotspots were encountered as personnel continued to rotate in and out of the building.

According to Merrill Assistant Chief Steve Hintze, "the situation was dangerous even after the fire was knocked down, because of the numerous holes in the floor throughout the residence".

The owner was notified and arrived on scene shortly after the fire was knocked down; the cause is under investigation at this time.

One Merrill Firefighter was pulled off the scene due to what appeared to be heat exhaustion. Hintze noted "the fire was very hot inside and one of our attack crew was taken back to the station, due to heat exhaustion symptoms displayed on the scene".

The inside of the residence had smoke, heat and water damage throughout.

No other injuries were reported.