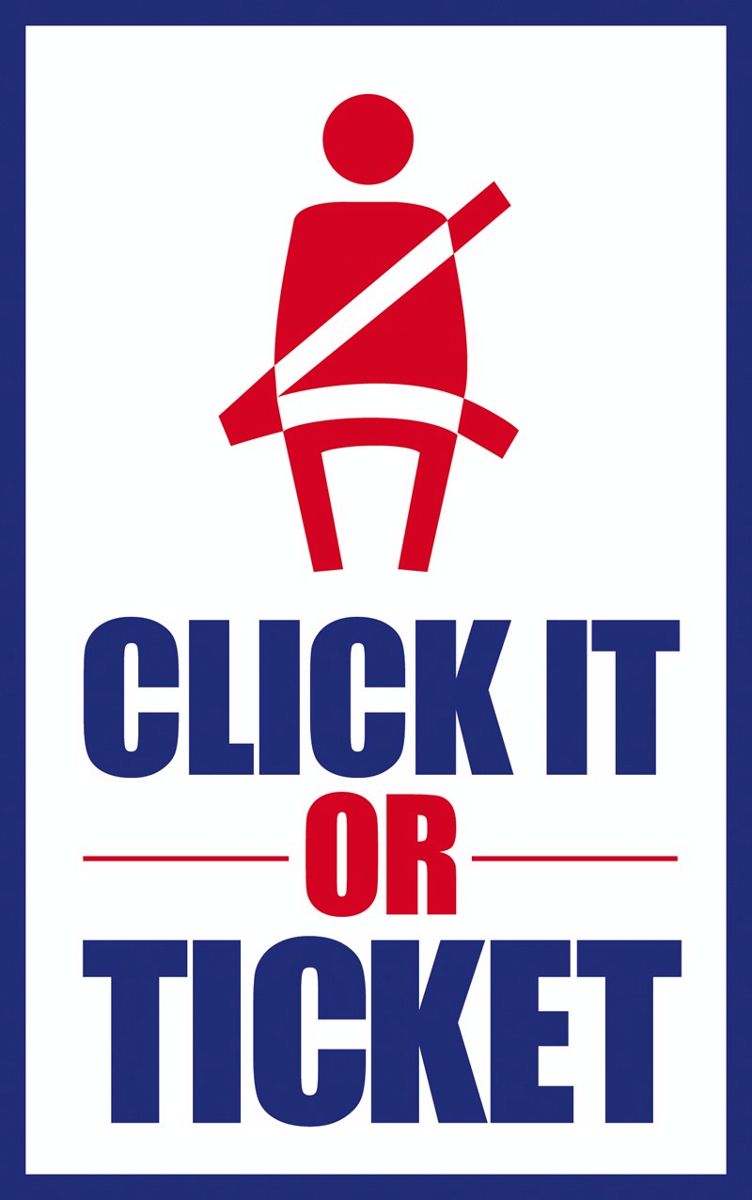 The Merrill Police Department will intensify its enforcement of Wisconsin's mandatory safety belt law during the annual Click It or Ticket mobilization from May 21 to June 3. Approximately 400 law
enforcement agencies throughout the state are expected to participate in this year's Click It or Ticket mobilization.
"Traffic deaths in Wisconsin so far this year have increased compared with the same time last year. And in all too many recent fatal crashes, the drivers and passengers were ejected from their vehicle because they were not buckled up. That's why we're serious about safety belt enforcement," said Chief Ken Neff. "To save lives and prevent injuries, our officers will stop a vehicle and issue tickets whenever they see an unbuckled driver or passenger. Our goal during Click It or Ticket and throughout the year is not to write more tickets. Through enforcement and education, we're trying to convince everyone to buckle up voluntarily so that eventually we can reduce the number of preventable traffic deaths to zero in Wisconsin. But if voluntary compliance fails and people ignore the law as well as common sense, we will provide a very convincing reminder about wearing their safety belts."
Law enforcement agencies throughout the state are cracking down on unbelted motorists. Last year, there were nearly 85,000 convictions for failure to fasten safety belts. Among all traffic violations, safety belt convictions in Wisconsin were second only to speeding convictions, according to the Wisconsin Department of Transportation.
Chief Ken Neff advises, "If you want to avoid the delay and hassle of being stopped and ticketed by an officer, you must buckle up every trip, every time. Even more important, consistent safety belt use will protect you from being ejected from a vehicle during a crash or thrown around violently inside it and possibly hitting another person in the vehicle with massive force. There really is no rational reason to not buckle up."
-------------------------------------
Wisconsin motorists and out-of-state tourists will swarm onto highways during the Memorial Day weekend and may encounter work zones where they will need to stay alert, slow down, and not tail-gate. Rear-end collisions caused primarily by distracted driving, speeding and following other vehicles too closely are the most frequent type of crash when approaching and driving through work zones.
During the Memorial Day weekend last year, there were seven traffic fatalities. On average during the last five years, nine people died in Memorial Day weekend traffic crashes, according to the Wisconsin Department of Transportation (WisDOT).
With heavy traffic anticipated, which could cause unexpected back-ups and slow downs, motorists should allow extra time to get to their destination, be patient when encountering traffic congestion, and, if possible, avoid driving during peak travel hours of between noon and 8 p.m. on Friday, May 25, and noon and 8 p.m. on Monday, May 28. As always, they should drive sober and buckle up. Approximately 400 law enforcement agencies throughout Wisconsin will have more officers patrolling for longer hours to crackdown on unbuckled drivers and passengers as part of the Click It or Ticket mobilization, which runs until June 4.
Motorists can check online for traffic information, including travel times, lane closures and incidents, at
www.511wi.gov
or by calling 511 on their phone (prior to driving).
Significant road construction projects that may affect highway travel include the following:
Mitchell Interchange in Milwaukee County
I-94 in Milwaukee County
I-94 in Kenosha County
I-43 in Ozaukee and Sheboygan counties
US 41 in Winnebago and Brown counties
I-94 in Eau Claire County
Work on the Wisconsin River bridges on I-39/90/94 in Columbia County is being suspended for the summer months and all lanes are now open.