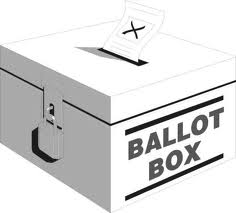 Wisconsin voters set up a rematch of the 2010 governor's race, when they nominated Democrat Tom Barrett yesterday for the June fifth recall election against Scott Walker.
The Democratic primary was no contest, as Milwaukee Mayor Barrett crushed former Dane County Executive Kathleen Falk 58-to-34-percent. Alma Senator Kathleen Vinehout finished third with four-percent, Secretary-of-State Doug La Follette had three-percent, and fake Democrat Gladys Huber had one-percent.
Capitol protestor Arthur Kohl-Riggs got three-percent of the Republican vote, and he apparently succeeded in getting Republicans to vote for Walker and not vote in the Democratic primary to try and give him a weak opponent. Walker got 94-percent of the total number of Democratic votes. Falk lost her third statewide race by 24 points – more than most polls had projected – even though the state's largest employee unions backed her early, and she received four-million-dollars in outside union support. Now, Falk and the unions have said they'll support Barrett – who has clashed with unions as Milwaukee's mayor but has promised to try and restore their lost collective bargaining privileges which were the main reasons for the Walker recall effort in the first place.
The head of the state firefighters' union won the right to try-and-recall Lieutenant Governor Rebecca Kleefisch on June fifth. Mahlon Mitchell of Madison easily won a three-way Democratic primary yesterday, with 52-percent of the vote. Fake Democrat Isaac Weix finished second with 26-percent, ahead of Milwaukee private investigator Ira Robins who had 22-percent. Kleefisch was not on the ballot yesterday, because she had no G-O-P primary opposition. Mitchell is a Madison fire-fighter who received the endorsement of state Democratic Party leaders, much to Robins' dismay. Weix – who was put up by Republicans to assure a primary – received 197-thousand votes. And some could have come from Republican voters to try and give the Democrats a weak nominee for lieutenant governor. Unlike the regular elections, the governor and lieutenant governor candidates do not run as a team – as the incumbents stand for recall challenges on their own.
Four Democratic state Senate candidates easily won their recall primaries. They all got 64-to-72-percent of the vote against fake Democrats who were put up by Republicans to assure that no general recall elections would be held yesterday. Fort Atkinson photographer Lori Compas had the biggest margin of victory, 72-to-28-percent over fake Democrat Gary Ellerman. Compas will now face Republican Senate leader Scott Fitzgerald on June fifth.
In the Racine area, former Senator John Lehman will have a rematch with Republican Van Wanggaard – who defeated Lehman in 2010. Lehman easily outpolled fake Democrat Tamra Varebrook, 68-to-32 percent.
In the Eau Claire area, former Representative Kristen Dexter won her Democratic Senate primary over James Engel, 64-to-36 percent. And Assembly Democrat Donna Seidel of Wausau won by the same 64-36 margin over Jim Buckley. Seidel will now face Assembly Republican Jerry Petrowski on June fifth. Petrowski was the only Republican to run after Senator Pam Galloway – who had been targeted for recall – left her post in March. None of the fake Democrats bothered to campaign. They were set up to assure that all the general recall elections would be held on the same day next month.
ELECTION RESULTS….
Governor, R: Scott Walker (incumbent) 626,538, 97%; Arthur Kohl-Riggs 19,920, 3%
Governor, D: Tom Barrett 390,109, 58%; Kathleen Falk 228,940, 34%;
Kathleen Vinehout 26,926, 4%; Doug La Follette 19,461, 3%; Gladys Huber 4,842, 1%
Lieutenant Governor, D: Mahlon Mitchell 395,944, 52%; Isaac Weix 197,052, 26%, Ira Robins 165,074, 22%
State Senate District 13, D: Lori Compas 21,246, 72%; Gary Ellerman 8,212, 28%
State Senate District 21, D: John Lehman 20,273, 68%; Tamra Varebrook 9,507, 32%
State Senate District 23, D: Kristen Dexter 17,638, 64%; James Engel 9,725, 36%
State Senate District 29, D: Donna Seidel 17,920, 64%; Jim Buckley 9,992, 36%