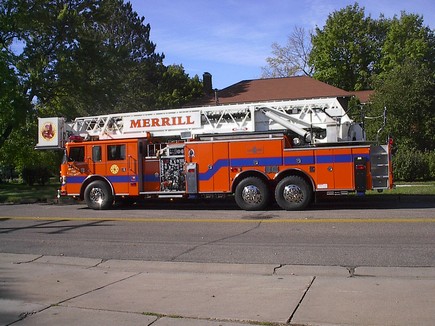 Merrill Fire/EMS personnel have announced that they will be holding a public informational meeting tonight, Tuesday April 24th, 2012 at 7p.m. at Les & Jim's Lincoln Lanes in the banquet /meeting hall.
Through a power point /video presentation firefighters will show the public exactly what they are currently receiving for full-time services as well as the costs of providing such services including fire, ambulance, rescue services and more.
"We plan to inform all area residents who receive any or all of our emergency services, an exact costs to them through their annual taxes, so they may decide if the critical full-time emergency services we provide are worth the costs to them," explains Merrill Fire Chief Bob Odegard.
The meeting will be open to anybody, but is especially targeting the residents from the City of Merrill, Towns of Merrill, Scott and Rock Falls who receive full time fire, rescue and EMS from the department and also the towns in the southern half of Lincoln County who receive full time EMS service from the department.
Personnel plan to allow time for questions and answers after the presentation, expectations are for an hour to a hour and a half presentation with a number of personnel speaking on issues relating to the services and costs of Merrill's Fire Department, after researching the information and numbers from the City Finance Director and the County Finance Director.
With regards to recent staffing levels at the Fire Deparment, Mayor Bialecki said that public safety is a top priority and that "is tempered by fiscal realities." Bialecki maintains that the staffing of the fire department remains 7 personnel per shift.