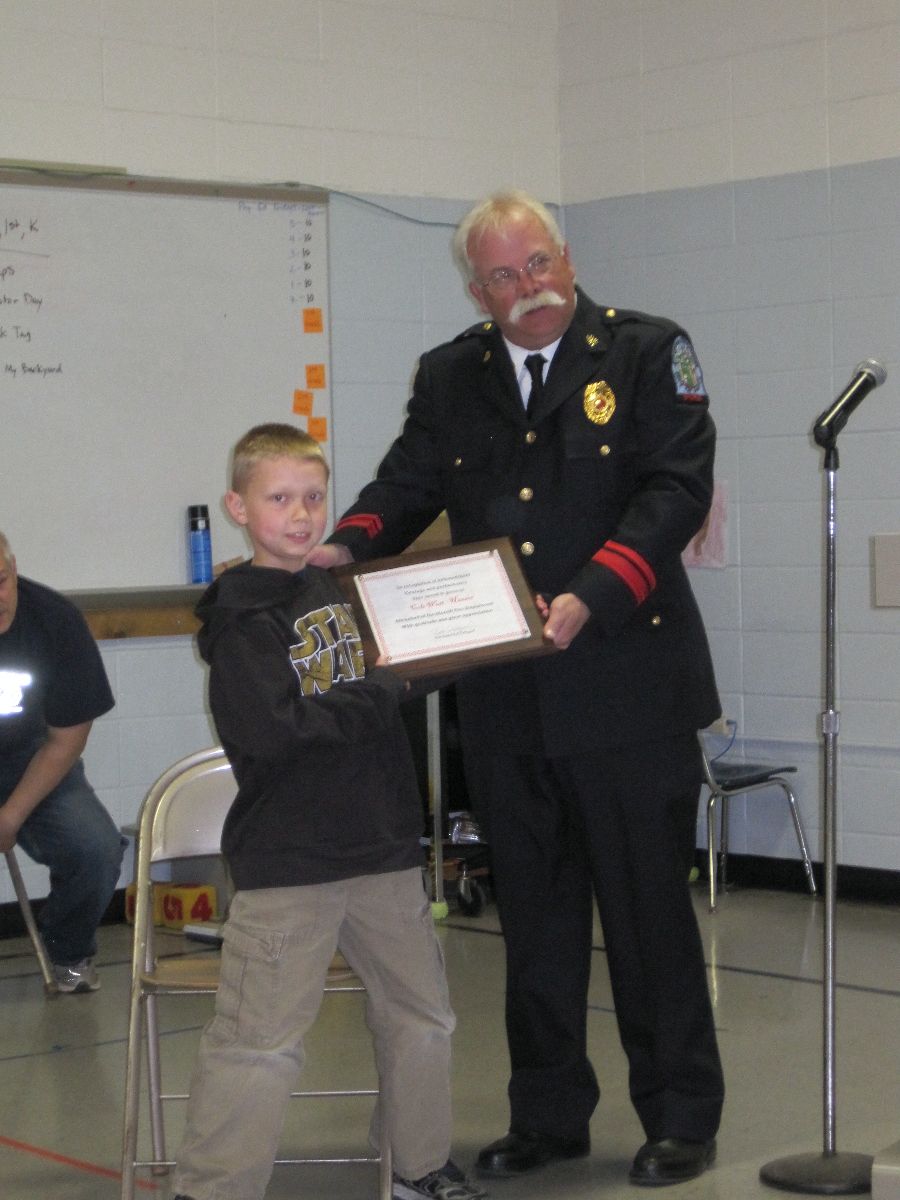 Cole West-Hanson receives a plaque
honoring his bravery from Merrill Fire
Chief Bob Odegard.
The Merrill Fire Department will regognized a young hero on Monday April 16th.
Tthe Merrill Fire Department will formally recognized 8 year Cole West-Hansen, a 2
nd
grader at Pine River Elementary school, for his acts of courage.
Young West-Hanson was alone with his mother when she went into labor on Saturday March 17th. The youngster acted heroically by calling 9-1-1 to report the medical emergency. Merrill Fire Department's ambulance, Medic 1 was dispatched to the Merrill residence where Merrill EMT/Paramedics delivered the baby at the home and then transported both mother and newborn to Good Samaritan Hospital.
Captain Mike Drury, an EMT from the responding Merrill Fire Department, who assisted in the delivery, stated that "not only did Cole make the call to 9-1-1, but he then went back to his mother's side to help her until we (medical personnel) arrived!"
The Spirit (air ambulance) helicopter, from St. Joseph's Hospital in Marshfield, who later transferred the infant, was scheduled to fly to Pine River School as well that morning.
"What Cole did was extraordinary and we want to not only honor him, but let other students no how important they can be in emergent situations," exclaims Merrill Fire Chief Bob Odegard. "This information is instilled in youngsters by firefighters across the country each year and it is our belief that Mr. Jeff Zettler, a Pine River volunteer firefighter, was very instrumental in preparing Cole for this situation."
Each year firefighters in Merrill and across the country reach out to teach kids and adults about fire safety as well as other emergency situations and how to handle them. In 20011, Merrill Firefighters reached over 1200 students in their fire jurisdiction.
The Merrill Fire Department says that Cole very well may have saved two lives that day.