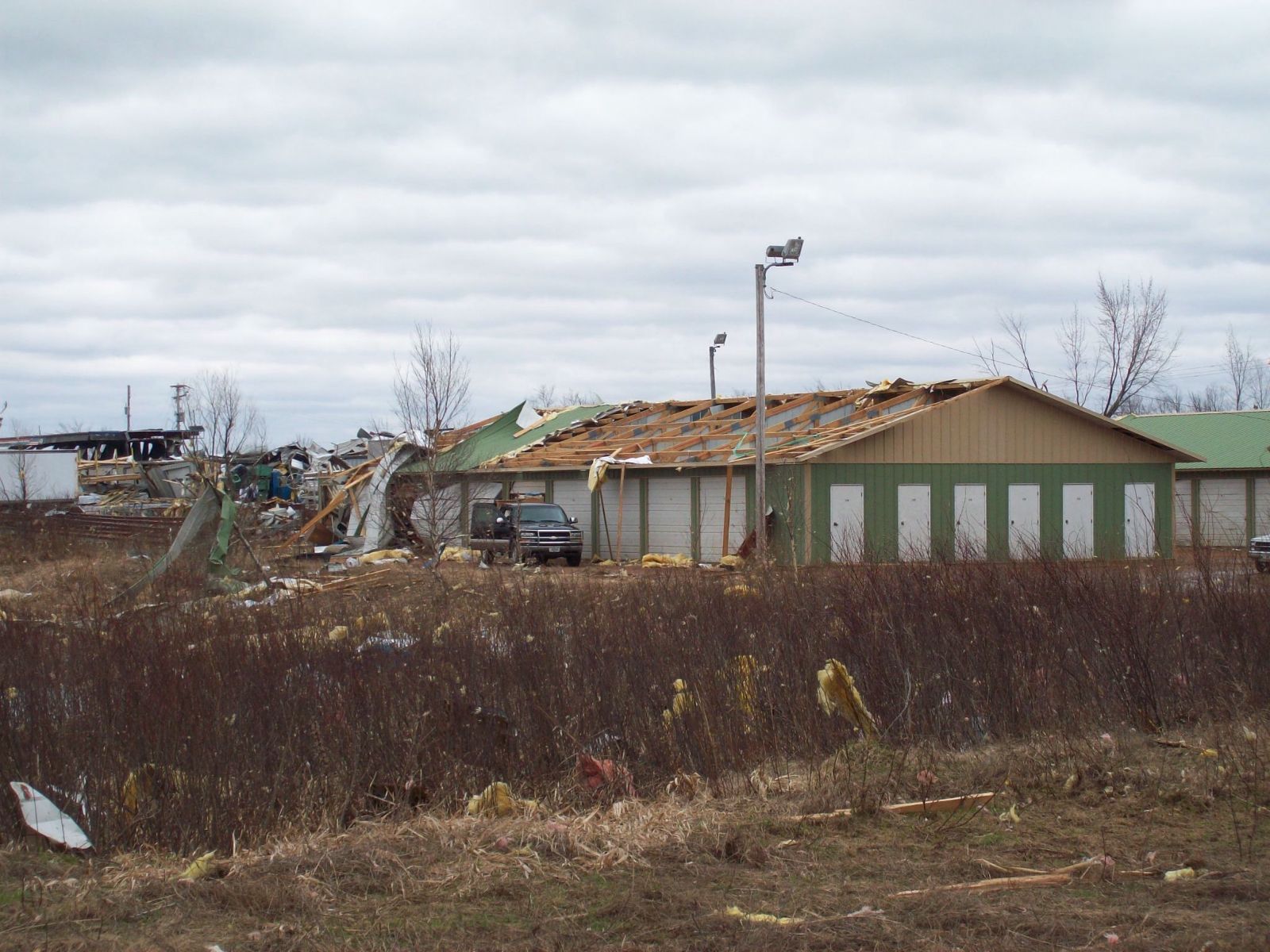 Damge to storage units on Hwy. K from the
Merrill tornado
It was a year ago today that a tornado ripped through parts of Merrill, damaging the MARC, the airport, several businesses in the industrial park and dozens of home in Merrill and the Town of Merrill were either destroyed or damaged. The National Weather Service confirmed it was an EF-3 twister, with winds of up to 140 miles per hour that cut a path 21 miles long.
To listen to a WJMT News interview with the Merrill Fire Department, click
HERE
for part 1, and
HERE
for part 2.
With the damage to the MARC now nearly completely repaired, Dan Wendorf of the Parks and Rec Department says that everyone is happy to be back at the MARC running the programs that the community has been a custom to. The Merrill softball team returns to the MARC later today for their home opener after spending most of last year playing home games at Ott's Park, which also sustained damage, including downed trees and a destroyed dugout. The MARC's fields will be ready for today's game, but there are still bleechers missing and the consession stand has not yet been rebuilt.
Click
HERE
for comments from Dan Wendorf.
Mayor Bill Bialecki said that the city owned property is about 90% rebuilt with the only exception being some work at the MARC. He also mentioned the Merrill spirit, with everyone jumping into action to help clean up and rebuild. Help also came from throughout the state and other states.
Click
HERE
to listen to all of Mayor Bialecki's comments.
Northcentral Technical College had their Fire and EMS training center of excellence destroyed on April 10
th
, 2011. Doug Jenning, Director of Fire and EMS with NTC said that not only did NTC rebuild, but they used it as an opportunity to expand, going from one classroom to three as well as other improvements. And the expansion will continue at the Emergency Villiage in Merrill this July when NTC will break ground on construction of a 300x500 foot asphalt lot that will serve as training for motorcycles and emergency vehicles and other continuing educational classes.
Click
HERE
for our full interview with Doug Jennings.
Merrill Police Chief Ken Neff said that while he hopes the community will never have to deal with a disaster like last year's tornado again, we are better prepared should the need arise.
Click
HERE
for comments from Ken Neff.
Debe Kinsey of the Merrill Area Chamber of Commerce said that there will be an event coming up in a couple of weeks at the High School to not only look back, but also see how far we've come. The event starts at 6:30 p.m. on Thursday April 26
th
at the High School.
As we approach another tornado season, a state-wide tornado test is planned for next week Thursday, April 19th.